Institute's delegation participated in the BRI Conference in Beijing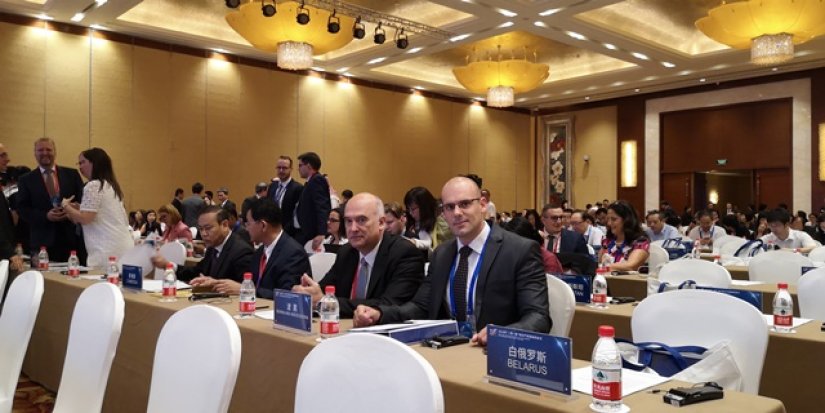 Mostar, August 31, 2018 - At the invitation and with the support of the World Intellectual Property Organization (WIPO), delegation of the Institute for Intellectual Property of Bosnia and Herzegovina participated in the work of the High-level Conference on Intellectual Property for Countries Along the Belt and Road (BRI Conference), which was held in Beijing on August 28, 2018.
The conference was attended by representatives of international and regional intellectual property organizations from 60 countries who stressed the need to continue and enhance cooperation in the field of protection of all forms of intellectual property, especially amongst the states along the Silk Road, from China to Europe.
In his address Chinese State Councillor Wang Yong called for broader, close and pragmatic cooperation on the protection of intellectual property rights among the Belt and Road countries, among other things, for optimization of regulations and the establishment of a regular cooperation mechanism with the objective of innovative development and economic prosperity of the Belt and Road countries.
He also read the letter of Chinese president Xi Jinping addressed to participants of the conference in which Chinese president expressed willingness to continue to work together with all parties to build the "one belt and one road" into a road of peace, prosperity, open road, road of innovation and civilization, in line with the principle of co construction and sharing.
Director General of the World Intellectual Property Organization (WIPO) Dr Francis Gurry, who was on an official visit to Bosnia and Herzegovina in the beginning of this year, also addressed the conference.
On this occasion he met with the Chinese Premier Li Keqiang who emphasized that protection of intellectual property rights is the cornerstone of market economy and inevitable requirement for achieving innovative development. He added that China is now in the critical stage of upgrading and improving its economy and will adopt a stricter IPR protection system and further improve related laws and regulations, Xinhua agency reported.
WIPO Director General Gurry said that in the past 40 years, China established a high-level IPR protection system, which regards intellectual property as the driving force for innovation and economic development, and treats Chinese and foreign companies equally.
Congratulating the rise of China's ranking in Global Innovation Index, Gurry said he believes the country will make further developments in the future and that WIPO is willing to further deepen cooperation with China, maintain multilateralism, and jointly meet challenges.