Management of the Institute for Intellectual Property of BiH at the WIPO General Assembly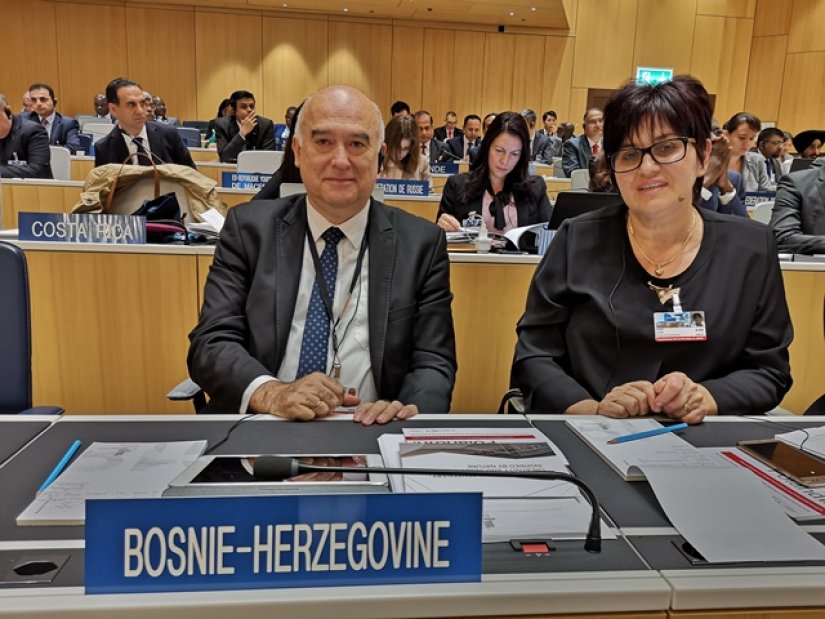 Geneva, September 27, 2018 - Director of the Institute for Intellectual Property of BiH Josip Merdžo and Deputy Director Ljubica Kozić participate in the annual General Assembly of the World Intellectual Property Organization (WIPO), headquartered in Geneva.
WIPO Director General Francis Gurry presented a number of positive steps in the work of this specialized UN institution in the work report. Although faced with a number of challenges related to the functioning of the world economy and trade, WIPO has successfully established mechanisms to protect all forms of intellectual property. There is a considerable increase in the number of intellectual property protection claims, especially in China and Asian countries. Particular importance is given to the protection of copyright and other elements of intellectual property based on new technologies, as well as defining and regulating approach to artificial intelligence.
During General Assembly, Institute's management will hold several bilateral meetings with the EU's organization for intellectual property - EUIPO and with the WIPO's special department for countries in transition and development - TDC. On this occasion, the continuation of successful cooperation in the next two-year period will be specified. Part of the activities have already been implemented through seminars and technical cooperation funded by WIPO, and the part will continue in the forthcoming period. The visit of Director General Francis Gurry to Bosnia and Herzegovina in March of this year and the highest level meetings as well as the lecture at the Faculty of Mechanical Engineering of the University of Sarajevo added to the cooperation between the Institute and WIPO.
Institute's management informed representatives of WIPO and EUIPO on successful completion of the adoption of amendments to the Law on Patents and the adoption of the Strategy for the Enforcement of Intellectual Property Rights by the BiH Council of Ministers.
During General Assembly, management of the Institute for Intellectual Property of BiH actively participates in the work of the regional group of countries to which BiH belongs - Central European and Baltic States (CEBS).