World Intellectual Property Day marked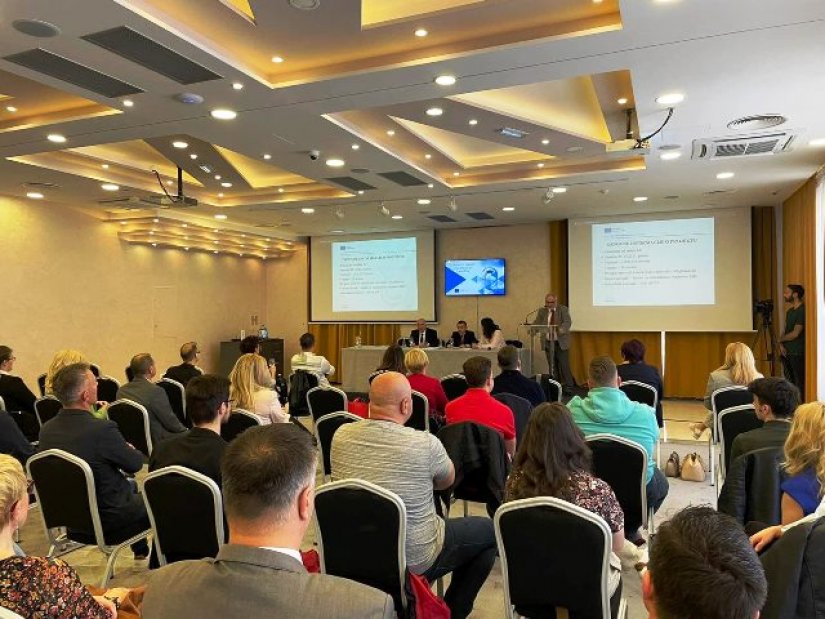 Mostar, April 26, 2022 - World Intellectual Property Day is celebrated every year on April 26, to promote the role that intellectual property rights play in fostering creativity and innovation. This year's theme "Intellectual Property and Youth: Innovation for a Better Future" focuses on the innovation and creativity of young people, recognizing their enormous potential to find new and better solutions that support the transition to a sustainable future.

"When you have a great idea for a product or service, there will always be people who will want to duplicate your success and sell your ideas as their own. For many companies, intellectual property protects more than the idea or concept itself - it protects real business assets that can be an integral part of basic business services and overall long-term sustainability", stated Gilles Rebattet, Head of Operations, Section for Economic Development, Infrastructure and Natural Resources of the EU Delegation in BiH, at the Conference held today in Mostar on the occasion of the World Intellectual Property.

The Conference was organized by the Institute for Intellectual Property of BiH in cooperation with the European Union project which works on improving the system of intellectual property rights in BiH and improving the competitiveness and innovation of the BiH economy.

"World Intellectual Property Day is an opportunity for young people to learn about the concept of intellectual property, how it affects the generation of income, job creation and how they can turn their ideas into reality," said Josip Merdzo, Director of the Institute for Intellectual Property of BiH.

Forms of intellectual property in BiH were presented at the Conference, focusing on patents, trademarks, industrial design and geographical indications.

"Around the world, young people are taking on the challenges of innovation, using their energy and ingenuity, curiosity and creativity to move towards a better future. Young people think, imagine, create and release their ideas into the world, enriching every society with new creative achievements ", said Miodrag Markovic, the Team Leader of the EU project Support for Intellectual Property Rights in BiH.

This year's award of the Institute for Intellectual Property of BiH under the topic "Let's build a better future with innovation, creativity and intellectual property" was also presented at the conference.

The award winners are:

1. Asad Grabovica, Mirza Neimarlija, Kerim Oruč for their work "Robotic Butler - Mr Bob"

2. Kenan Nazdrajić for his work "Innovations of young entrepreneurs towards a better future - Minimalist vector illustration"

3. Sarah Milanović for her work "Mosaic of Bugojno High School"

The conference was attended by over 60 participants, representatives of business incubators, start-ups, business and academic community.

The marking of World Intellectual Property Day was an opportunity for the public to get acquainted with the concept of intellectual property, how it affects the generation of the income, job creation and how your ideas can be turned into a valuable product or service.